So I'm getting ready to head off for a long overdue vacation to Mexico! I've never been, but I've heard it's amazing. I'll get some time on the beach, as well as numerous days exploring the old Mayan ruins on the Yucatan peninsula.

So, unfortunately in my excitement the only thing I can focus on is the trip, so today you all get treated to Mexican eye candy!

Famous artist Frida Kahlo's father -
Guillermo Kahlo - in 1899. From
here
Mexico railways poster from the late 1940s, from
here
M
ovie still from
"The Aztec Mummy vs. the Human Robot" - shot in 1957.
The image above actually comes from a site with an interesting article and some clips about 50s sci-fi movies filmed in Mexico. Who knew they had such a sci-fi fad as well? Read more about it here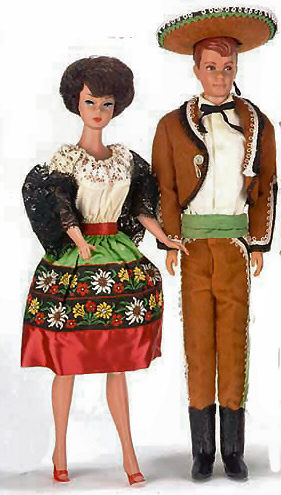 B
arbie and Ken from 1964. Info about their outfits
here
I also love 50s hand-painted Mexican circle skirts. Below are some great ones to buy online...
This one is $150, but that's all embroidered! Buy it
here